To overview
News in June: Tracking parasitic currents
19.06.2017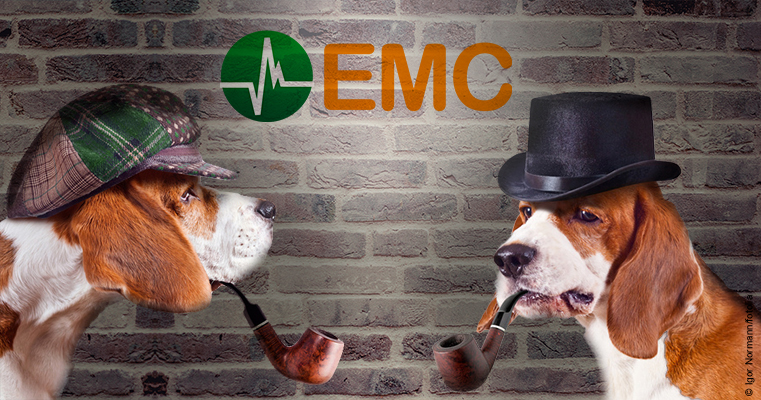 ---
Investigators need a good nose to reveal culprits, perpetuate evidence and to convict the guilty. Like highly sensitive sleuths the intelligent current measurement clamp and the EMV-INspector track, analyse and evaluate unwanted currents in the plant network. Both devices can be used for different cases. The results they show are insightful and expedient for the optimisation of the equipotential bonding.
Intelligent detection of temporary glitches
Conventional current measuring clamps only display an average value and cannot react upon irregular occurring events. Therefore, the intelligent current measuring clamp EMCheck® ISMZ I and the EMV-INspektor® V2 are the ideal tools to detect temporary glitches.
Mobile Solution: EMCheck® ISMZ I
With the compact and battery-driven current measurement clamp you can detect leakage, shield and parasitic currents. Therefore, the EMCheck® ISMZ I offers the following functions:
Autonomous detection, evaluation and recording of data
Current is scanned with 10 kHz, 20 kHz or 40 kHz
Data recording for a period of up to 14 days
Integrated, removable storage medium (SD card)
Click here for further information.
Stationary Solution: EMV-INspektor® V2
Due to the rising complexity of the machines and plants it becomes more and more important to stay on top of things. With the EMV-INspektor® V2 you can measure up to four different channels on different points at the same time to connect the causes of potential interferences with the detected effects. Read more ...
Click here for a direct comparison of the mobile and stationary solution.
Any questions?
Our contact persons are at your service.
---
Your Press Contact
Christian Wiesel

Press

+49 (0)34491 / 5818-41
+49 (0)34491 / 5818-99