To overview
The helping hand of the network administrator
29.11.2018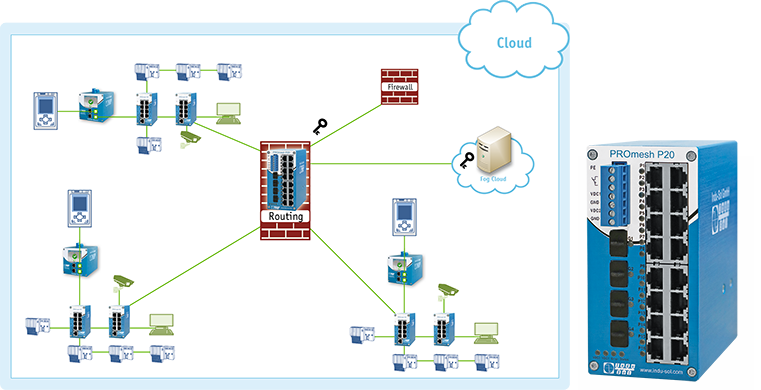 ---
The Switch PROmesh P20 -
A reliable interface between IT and OT
Industrial automation networks are no longer outwardly isolated units. The advance of Industry 4.0 has led to a rapid increase in the fusion of automation networks (Operational technology/OT), as well as in the number of connections in superordinate IT networks. In producing companies, the basic prerequisite for continuous communication between the OT and IT networks is the use of Ethernet-based networks in which switches organize the data traffic efficiently.
The Switch PROmesh P20 from Indu-Sol has been purposely developed for use as a link between the IT levels and the automation networks. Due to its integrated router functionality, it makes an important contribution to network security as devices connected at the switch can be separated from the superordinate network. However, there is also the possibility of permitting individual connections if required.
As several networks communicate via the switch a high volume of data is to be expected. The PROmesh P20 withstands such loads not only thanks to its certification according to the highest Netload Class III – it also has a high performance onboard diagnosis, which among other things, dissolves the network load accurately to the millisecond, thus making peaks recognisable that even just occur for a short time. In a representation per second or even minute these peaks are lost in the average value.
To effectively research the cause for disturbances, the diagnosis results (besides network load, also discards and errors) are visualized in the Web interface of the switch as per the traffic light principle to be easily evaluated at a glance. This is not only of benefit during network diagnosis – the PROmesh P20 also monitors the leakage currents on the shielding of the connected data lines. Thanks to the simple display of the determined measured values, the administrators in charge can ascertain, even without basic electromagnetic know-how, whether the reasons for the events in the network lie in the network itself, or have been caused by electromagnetic disturbance variables.
Through its unique combination of features, the PROmesh P20 fulfils essential requirements of intelligent infrastructure components for stable and secure industry communication in the worlds of IT and automation.