Your partner in all areas of industrial networks

---
Changing industrial networks: Smart networking
Increasing plant networking, more complex plant processes and growing competitive pressure: the next evolutionary stage of Ethernet-based machine and plant networks awaits you! Are you ready?
PROFINET V2.4, artificial intelligence, TSN and many other innovations are currently occupying the experts for industrial automation. Even if all these innovations are the logical next step in the evolution of proven automation technologies, many questions arise for plant operators and installers. Among others:
What effects do TSN, Gigabit & Co. have on existing network solutions (including PROFINET)?
What opportunities and advantages can plant operators already benefit from?
As a long-standing expert for high-performance industrial networks, we support you to understand innovations, to discover potentials and recognizing the need for action in good time.
Close to the network
The Indu-Sol service team is always at your disposal. Several hundred times a year our customers place their trust in us and request a service visit.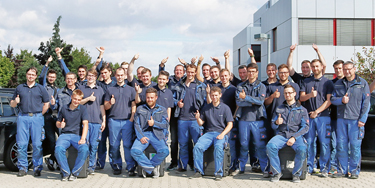 Network planning & conception – Structure of communication layers
Increased networking, growing data volumes, real-time capability: Are the network and its infrastructure components up to the tasks intended for them?
With a future-proof network structure, you can create the conditions for keeping the increased networking of machines and systems under control! With clearly defined responsibilities, infrastructure components that meet the needs of your plant and equipment, and targeted network management, you can lay the foundation today for a secure tomorrow.
Network infrastructure – Routing & Switching
The choice of infrastructure components has a significant impact on the performance of your network! No matter if growing data volume, higher EMC load or increased security requirements - at Indu-Sol you will find the right components for a stable and secure data communication!
OUR OFFERINGS – PROmesh Diagnostic switches
Clear diagnostic view
Display the network load in milliseconds and seconds
Display discards
Network diagnosis – AI-based Smart Maintenance
Decentrally determined condition data form the basis for central monitoring of the overall network status, targeted network management and predictive maintenance. Three factors significantly influence the stability and availability of production:
Operational wear, rough production environment
Sporadic, non-reproducible events (mainly in Ethernet-based networks)
Industrial Security
OUR OFFERINGS – One scalable system - many applications
Profit from modern and predictive maintenance:
Permanent and non-reactive monitoring of your fieldbuses and networks
AI-based status analysis for a modern and predictive maintenance
Maintenance management made to measure: maintenance work is only necessary if the actual condition really requires it