To overview
How to keep automation technology manageable in the future?
19.04.2018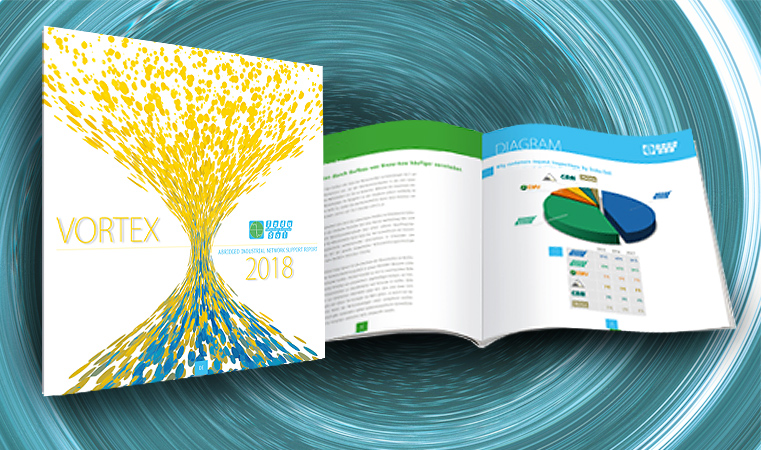 ---
Technological progress in industrial automation continues to create new challenges for plan-ners, installers, operators and service personnel of machines and systems. Which network structure is optimal for each intended application? How to ensure the timely transmission of time-critical information? How to achieve long-term high availability including plannable maintenance?
The basis for answering these questions and thus for mastering the technology is first of all, obviously, an accurate knowledge and documentation of the state of affairs. Indu-Sol GmbH has therefore summarized the findings from 547 deployments of its measurement engineers in 2017 and is making them available in the VORTEX Report 2018. The measurement engi-neers' job in their assignment is to objectively evaluate the data communication quality in the customer's network. Their analyses provide information on the current status, which helps to detect any weak spots or general maintenance needs.
Of course, the figures in the report only represent a small fraction of the overall state of fieldbuses and networks worldwide. In fact, no comprehensive and uniform compilation exists for these data. This is all the more regrettable against the background that automation tech-nology is used in most industries – above all in the automotive, steel, paper, water/wastewater and food sectors – and the networks behind them can safely be called the "lifelines" of industry. This important vital asset requires conscientious and complete documentation as a prerequisite for demand-oriented maintenance.
Since the VORTEX Report 2018 is now being published for the third time in a row, the first few trends can already be observed: How are maintenance requirements developing in clas-sic fieldbuses and "newer" Ethernet-based networks? How many "SOS missions" are still required to remedy unplanned machine and system standstills? What are the typical weak spots? The VORTEX Report 2018 is dedicated to answering all these questions and derives findings for future developments in the field of automation technology.