To overview
Product Launch | PROmesh P10 - The switch for permanent cable monitoring
01.10.2020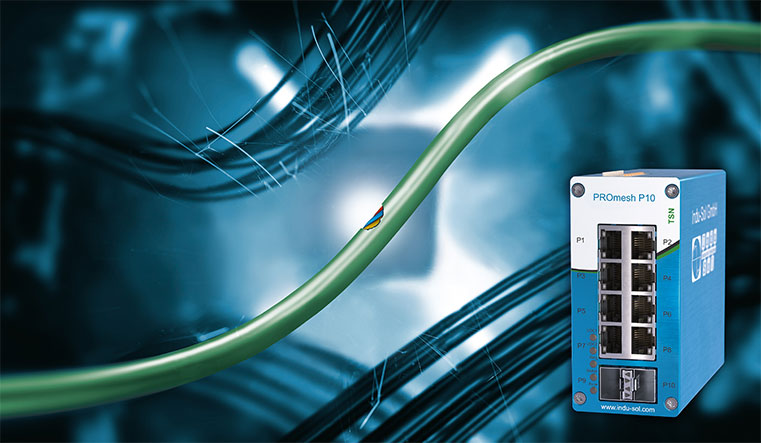 ---
The Industrial Ethernet Switch that revolutionizes predictive maintenance of networks.
So far, it has been almost impossible for industrial networks to run stable without any intervention. However, you can come very close to this ideal if you know the state of your network at all times. To make this as uncomplicated as possible, we now offer the PROFINET certified Industrial Ethernet Switch PROmesh P10 as a promising alternative to conventional approaches. The gigabit-capable industrial switch is not only able to manage the data traffic in homogeneous, heterogeneous and convergent industrial networks, it is also able to monitor the quality of the connected data lines during operation.
Alternative to cable certification
In addition to the proven diagnostic functions of the PROmesh switches, the PROmesh P10 has online cable diagnostics. Thanks to this AI-like analysis, conclusions can be drawn about the line quality and cable wear during operation. Thus not only the complex cable certification can be simplified. Instead of the one-time check of the connection quality for commissioning, network connections are monitored over the entire life cycle of an automation system. This enables a further step towards preventive maintenance, as the need for action can be identified before a visible fault occurs. If sporadic non-reproducible events occur nevertheless, the permanent connection monitoring makes it possible to quickly clarify whether a line defect or EMC influences were the cause.
Full line diagnostics during operation
The PROmesh P10 is the first industrial switch that enables permanent line diagnostics without disconnection. This brings numerous advantages for both machine/system manufacturers and users:
Line aging and wear becomes traceable
→ Maintenance intervals become more predictable
Cyclical routine exchange of lines "on suspicion" becomes unnecessary
→ more economical, demand-oriented maintenance becomes possible
The most important data at a glance
The PROmesh P10 has 8 RJ45 ports and 2 SFP slots (up to 2, 5 Gbit/s). Its backplane capacity is 51.2 Gbit/s, the throughput is 19.3 Mpps. In addition, the current flagship of the PROmesh series has numerous diagnostic functions which support the smooth operation of the system. Besides the already mentioned online line diagnostics, the switch also features leakage current monitoring, performance monitoring (port statistics, network load, etc.) and 24 V monitoring. The device is also compliant with the current PROFINET specification v2.4.
Related Links