Equipotential bonding analysis: Detecting hidden sources of interference

---
EMC measurement: making the right decisions
– Reliable detection of interference sources
In modern industrial plants, switched-mode power supplies, drive solutions or frequency converters influence the load status of your equipotential bonding system. These correlations cannot be determined with conventional RMS current measuring instruments. For this reason, precise EMC measurement is not as trivial as it may appear at first glance.
For illustration: More and more drives are RPM-controlled. The connected frequency inverters lead to higher-frequency operating currents. These result in strong, changing magnetic fields which, for example, lead to an undesired shielding current on the bus cable. Conventional current clamps cannot identify the cause. Thus, the EMC interference source would first remain undetected.
Why to choose EMC diagnosis from Indu-Sol?
Tried-and-tested solutions
We develop our products together with our professional measuring engineering team.
Not done half-way
From EMC measurement to professional consulting to EMC monitoring - we are your professional partner!
Uniform software platform
We offer a software platform for the central monitoring of your plant network.
The threefold system for perfect error analysis of your potential equalisation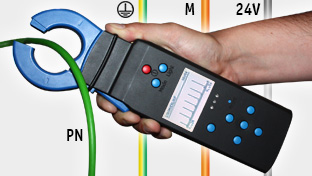 The smart, self-learning current measuring clamp
– EMCheck® ISMZ I
Automatic recording of interference peaks up to 20kHz
Frequency analysis for easier identification of interference sources
Ideal for flexible long-term measurement
(up to 14 days, w/o external power supply)
The only self-learning current clamp on the market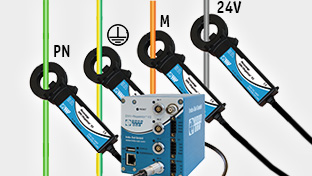 All in one: Measuring, analysing, identifying correlations
– EMV-INspektor® V2
Measure with up to 4 measuring clamps simultaneously at different measuring points
Recognize (hidden) correlations for EMC disturbances
Ideal for permanent EMC monitoring up to 25kHz
Nominated for the German Industry Award 2018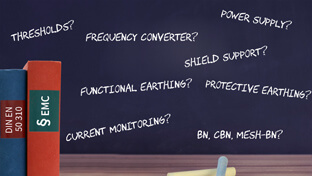 All about shielding, earthing & equipotential bonding in industry
– EMC training, one day
All about EMC & equipotential bonding
Practical basics of theory and latest industry guidelines
Live measurement of EMC-relevant parameters
expert knowledge & live measurement
| | | |
| --- | --- | --- |
| | EMCheck® ISMZ I | EMV-INspektor® V2 |
| Device type | portable EMC measuring device | portable / stationary measuring device |
| Measuring points | 1 | 4 |
| Highlights | automatic recording, evaluation and logging of interference currents | automatic recording, evaluation and logging of interference currents |
| Sampling rate | Supports 10 kHz, 20 kHz and 40 kHz | 50 kHz |
| Long-term monitoring | yes, up to 14 days | yes, permanent |
| Memory device | integrated, removable storage medium (32 GB) | integrated storage medium (16 GB, expandable) |
| Data view | integrated display, software EMCheck® View (available for free) | web interface, software EMCheck® View (available for free) |
| Power supply | batteries (6x AA) | external, 24V DC |
| Scope of delivery | Measuring clamp, USB data cable, EMCheck® View software, batteries, transport case | EMV-INspektor® V2 basic unit, 1 external measuring clamp (up to 4 connectable), power supply |