To overview
Indu-Sol GmbH continues to expand
01.07.2019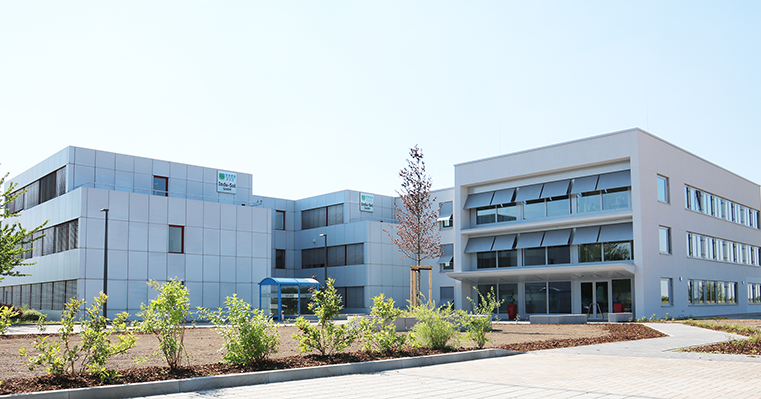 ---
Extension completed: new office and technology building with 55 additional workplaces officially opened
According to the motto "All good things come from above", right at the beginning of the inauguration ceremony of the new part of the building an aeroplane with the help of a banner announced the good news: "Indu-Sol continues to grow".
The German technology company was founded 17.5 years ago in Gera and specialises in the planning, commissioning and maintenance of industrial networks. When the current managing directors Karl-Heinz Richter and René Heidl once started their mission as a twosome, they now have a 135-strong team behind them. The company has now grown into a global player with partner companies in almost 30 nations.
So it is high time to give room to growth in the truest sense of the word and to lay the foundation for a continuation of the upward trend. To this end, almost exactly two years to the day after the laying of the foundation stone, a new office and technology building was inaugurated on 27 June 2019. It expands the existing building by 848 m2 of office and event space, which will provide 55 workstations, among other things. The total costs for this amount to around three million euros.
Karl-Heinz Richter, Managing Director of Marketing & Sales at Indu-Sol, compared the inauguration ceremony with the birth of a child and emphasised the importance of carers in the "pregnancy phase" - meaning on the one hand the building trades involved and on the other hand the financial supporters of the project. He also addressed his thanks to the staff for what has been achieved so far, combined with an appeal not to rest on our laurels: "We must do something every day to help us grow.
At Indu-Sol, this traditionally includes training the next generation of workers in-house. Indu-Sol offers the teenagers and young adults a lot of exciting tasks and projects as well as some interesting insights behind the scenes of well-known industrial companies; for example from the automotive, paper, steel, logistics or food sectors. The offer ranges from one-day taster courses and internships to training as an electronic technician for automation technology. But also "finished" workers are welcome at Indu-Sol. Not the age is the criterion, but the professional competence.
The basis for further growth would thus be laid.
---
---