To overview
PROmesh P20 is nominated for the Engineers` Choice Award 2020
14.10.2019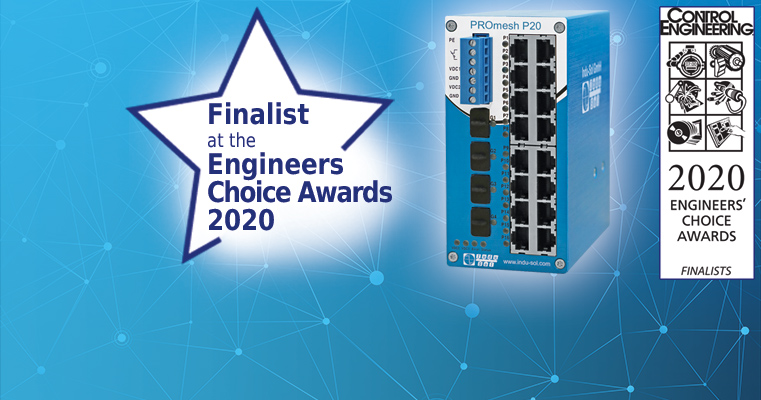 ---
Look & vote for your favorite solutions!
The technological progress in industrial automation sets new challenges for engineers, especially in the field of industrial networks. More and more data is transmitted within the network. Machines and plants are deeply connected. How can their availability and the security of data communication be ensured under these circumstances in present and future?
The German technology company Indu-Sol gives one answer to this question with its Ethernet/Profinet switch PROmesh P20. Why another switch when there are so many already available on the market? "When we talk about switches for future applications in the OT area, we need a very different view from that required in the office environment. For example, switches normally provide comparatively little information about network diagnostics; i.e. about the network status itself. Permanent monitoring, telegram analysis, anomaly detection, failure alarms – these are requirements in the sense of predictive maintenance, which must be fulfilled in addition to the actual switch function.
In terms of the ongoing technological transition towards integrated Ethernet communication, the switch has an unprecedented central role, for which it must be prepared on the development side", states Karl-Heinz Richter, managing director marketing and sales at Indu-Sol.
With this in mind, Indu-Sol has purposely developed their Ethernet/Profinet switch for use as a link between the IT level and the automation network (Operational Technology/OT). Due to its integrated router functionality, it makes an important contribution to network security as devices connected at the switch can be separated from the superordinate network. However, there is also the possibility of permitting individual connections if required.
Several networks communicate via the switch, so a high volume of data is to be expected. The PROmesh P20 withstands such loads not just due to its certification according to the highest Netload Class III. It also has high-performing onboard diagnostics, which provides not only diagnostic data of the network (net load, discards, errors), but also monitors the leakage currents on the shields of the connected data lines. This is currently a unique feature in the switch market.
With all these features, PROmesh P20 is the perfect infrastructure component for your future-proof industrial Ethernet/PROFINET network. The jury of the North American Engineers' Choice Award 2020 shared this opinion and nominated the PROmesh P20 as a finalist in the category "Network Integration – Ethernet, Hardware, Switches".
If you agree, please vote for the P20 on the Control Engineering website:www.controleng.com/articles/2020-engineers-choice-finalists/
Go to product page: www.indu-sol.com/en/switch-promesh/