To overview
Fifth edition of the VORTEX report published
01.04.2020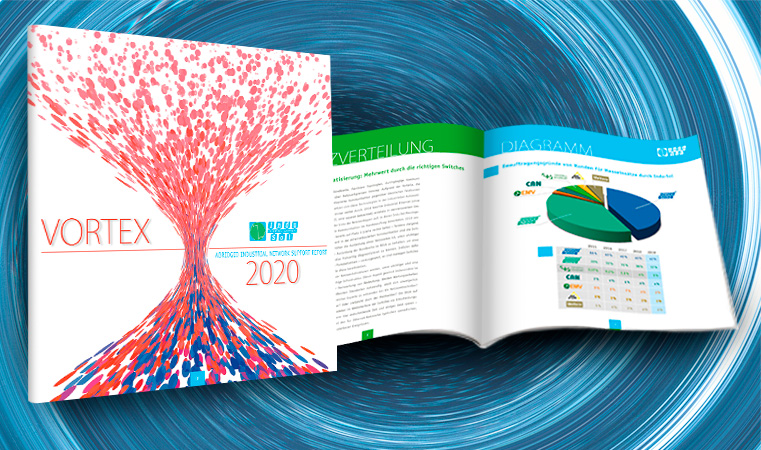 ---
Field buses and networks in 2020: From domino effects and "moonstruck" automators
Rarely have so many innovations entered the industrial automation market in parallel as in recent years. Technological developments such as 5G, artificial intelligence, the new PROFINET specification V2.4 or time-sensitive networking are pushing existing automation systems to their limits and increasing the demands on new installations if you want to keep pace with global competition. For every company whose economic success depends to a large extent on continuous and reliable automation processes, these trends lead to the central question: Can the fieldbuses or industrial networks used in each case achieve what is required of them? Particularly where networking is increasing rapidly and the volume of data is rising noticeably as a result, it is worthwhile to make an exact comparison of requirements and reality.
The German technology company Indu-Sol GmbH sees itself and especially its customers - companies from various industrial sectors such as automotive, paper and steel, logistics or food - confronted with this question every day. These companies commission the measurement engineers of Indu-Sol with a measurement evaluation of the data communication quality in their own field buses or networks - sometimes in the form of a preventive inspection measurement, sometimes as a reactive determination of a cause of malfunction, which the customer has not been able to solve himself.
This means that every year, several hundred measuring applications are brought together, which are covered by Indu-Sol alone. The company publishes the findings from the assignments of the previous calendar year in the so-called VORTEX report. In 2020 this report will be published for the fifth time in a row and also in this issue it gives specific information on how the stability and reliability of industrial automation applications can be increased. In particular, the readers learn which domino effects can be avoided in later operation by conscientious planning of the network structure and selection of infrastructure components and why one might suspect that some automation engineers are moonstruck.
Read it now!