To overview
Change your switch supplier now
15.07.2021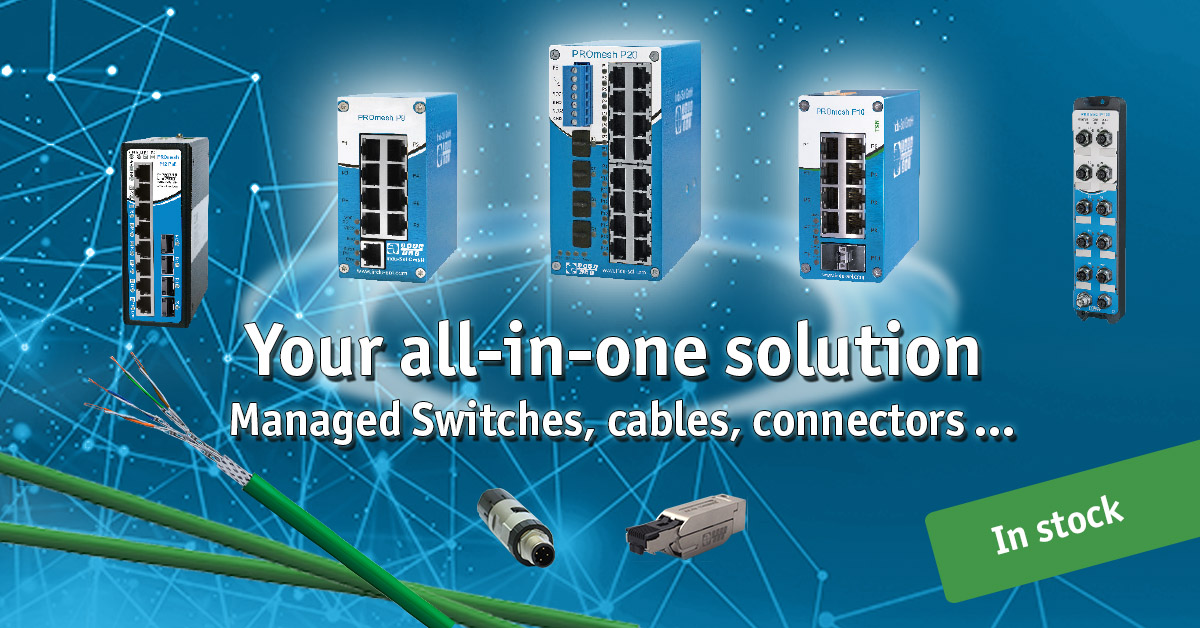 ---
Are you currently missing important network components due to long delivery times? Or are you thinking about impending delivery bottlenecks and want to create redundancies?
Then we recommend that you think about changing you supplier without having to take any risks or compromises. In addition, we offer a very good service - this makes the change even easier. Indu-Sol supplies all kinds of network components from one single source and of course in the usual PREMIUM quality. In addition, compared to other manufacturers, we deliver immediately!
The change is made easier by:
Quality assurance from Premium to Premium+: Netload Class III, advanced diagnostic functions
easy integration into existing configuration tools: TIA/Step 7 GSDML file and EPLAN Makro available
Our all-in-one solution includes:
1. The Industrial Switches of the PROmesh family provide features like:
· Gigabit
· Netload Class 3
· managed
· 9 Port up to 56 Port
· NAT routing
2. Network cables
3. Plugs
4. Accessories

Convince yourself and find more information here to get started:
Test the Switch web interface in a web demo - directly in your browser. With three selectable practical scenarios. » Test it now!
In the switch explanatory video, we show you the basic functions of an industrial switch and how you can achieve optimal network performance in an easy-to-understand way. » Watch now!