To overview
Indu-Sol certified as a PI Competence Center (PICC)
02.02.2016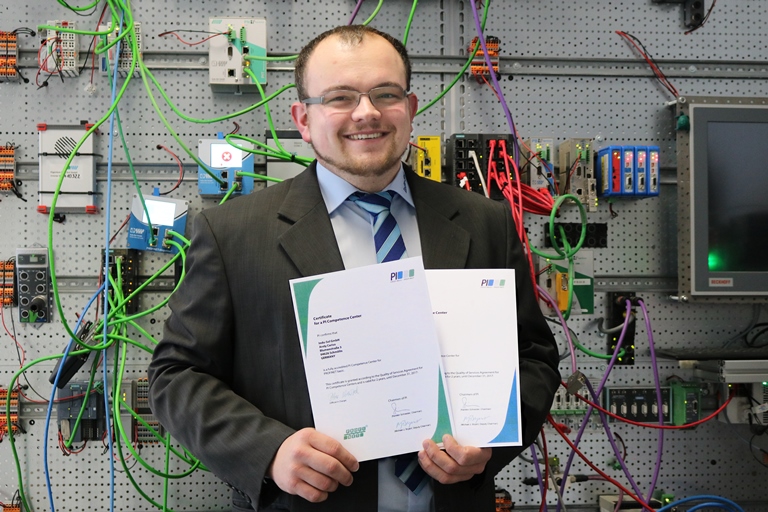 ---
On 25 January 2016, Indu-Sol GmbH reached another important milestone in their short company history: the experts in industrial networks are now also a certified PI Competence Center (PICC) for PROFIBUS DP, PROFIBUS PA and PROFINET. The assessment was conducted by auditors Elke Hintze and David Hasler from the Institute for Automation and Communication (ifak). Once they had formed their own impression on site, they certified that the Schmölln technology firm fulfilled the necessary requirements to obtain the status of a Competence Center for PI.
PICC manager Andy Carius, who is also the department manager for development and product management at Indu-Sol, was delighted with the award and is optimistic about the future: "The acquisition of this title means we will continue to be an important point of contact for developers and users and can now formally display our expertise in all areas of PROFIBUS and PROFINET technology - planning, commissioning, maintenance and troubleshooting - to the outside world."
The PROFIBUS & PROFINET International (PI) organisation unites over 1,400 institutions as its members under one roof and is therefore the world's largest organisation for automation. Together with the training centres and centres of excellence it has approved, it supports the developers and users of solutions for the world's two leading automation technologies, PROFIBUS and PROFINET. Here, Indu-Sol GmbH has already gained extensive knowledge and contributed its own product developments over the course of its 14-year existence. As an active PI member, the Schmölln employees give lectures at home and abroad, participate in conferences and are involved in diverse working groups.
In its role as PI Training Center (PITC), Indu-Sol GmbH has already been offering certified training courses for both technological sectors since June 2014. After passing the exam, the participants receive the title of "Certified PROFIBUS Installer" or "Certified PROFINET Installer".