New Product
With the new PROFIBUS tester, you can get your measurement result in seconds - clear, uncomplicated and reliable.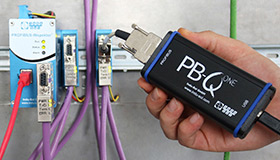 OUR RECOMMENDATION: Measuring external interferences
Check your system on shield currents and an optimised equipotential bonding.
---
PROFIBUS brochure
Basics and coherences of the proven technology in compact form as well as tips to latest valid standards and guidelines
Catalogue
Solutions and products for fieldbus and network analysis
---
Do you have any questions?
We are at your service for all questions concerning our products and solutions.