PROFIBUS-INspektor® NT
DP
PROFIBUS analysis and diagnostic tool

---
Top features of PROFIBUS-INspektor® NT
Chronicle of all events for quick and easy overview
Life cycle of the network and the current bus status at a glance
Alerting options via switch contact, LED indicator, e-mail notification or SNMP trap
Topology with status display for fast localization of weak points in the PROFIBUS project
Automatically generated inspection report with all important event details (acceptence mode)
With PROFIBUS-INspektor® NT you are well equipped to "reach retirement" with your PROFIBUS systems without any disturbances. The compact version combines all necessary functions for diagnosis, alarming and reading PROFIBUS data in a single device. This range of functions means that the PROFIBUS Inspektor® NT can also be used for mobile applications as well as for acceptance and service purposes.
The diagnosis device PROFIBUS-INspektor® NT records your PROFIBUS network with all active devices and visualizes them clearly using an embedded web interface. As a passive data collector, it monitors the logical data traffic and alerts you at the first signs of malfunction - not just when your PROFIBUS system has already failed. The PROFIBUS-INspektor® NT allows a complete online analysis of all quality-relevant events such as:
Error telegrams
Telegram repetitions
Device failures
Device diagnostic data
Restarts
BUS cycle times
PROFIBUS-INspektor® NT: Features and advantages in detail
Interruption-free reading of all data
No additional software is required for reading the data from the PROFIBUS-INspektor® NT. You only need an Internet browser (e.g. Mozilla Firefox) to access the web interface integrated in the device. This allows you to view both the current network status and a history of past events.
Note: The web interface of PROFIBUS-INspektor® NT can be accessed conveniently via the web browser of the connected device (e.g. notebook or tablet) - without any additional software required. No active Internet connection is required.
Topology function with status information
For the evaluation of a PROFIBUS network, knowledge of the real wiring of the individual devices among themselves is a central prerequisite. This topology can be stored on the PROFIBUS-INspektor® NT with all important infrastructure components, such as repeaters and measuring points, including the device information, and can be retrieved as required. In addition, current and past states of individual nodes are displayed in color. This makes it much easier to limit existing errors to certain segments or conspicuous nodes.
Error statistics with detailed timeline
Automatic alerts for PROFIBUS errors
As soon as a threshold is exceeded, the PROFIBUS-INspektor® NT creates an alarm to warn the operator in time to perform targeted, planned maintenance. Warnings can be given in several ways. An LED on the PROFIBUS-INspektor® NT shows directly whether errors occurred in the network. In addition to this warning, a potential-free contact can be switched, e.g. to send a message directly to the control system. The third option is to send an e-mail to notify the responsible maintenance team as soon as possible.
By accessing the web interface of PROFIBUS-INspektor® NT, a detailed alarm list shows which error occurred on which device at which time. In addition, it records which event (threshold value) triggered the alarm. The internal memory allows to record up to 2000 alarm messages, each alarm is assigned to a snapshot with up to 1000 PROFIBUS telegrams.
Alert options
Easy creation of a PROFIBUS acceptance log
The PROFIBUS-INspektor® NT offers you the possibility to create a complete acceptance log of your PROFIBUS project with just a few clicks and in a short time. It contains all important information on the respective PROFIBUS system, from topology to bus-related EMC conditions.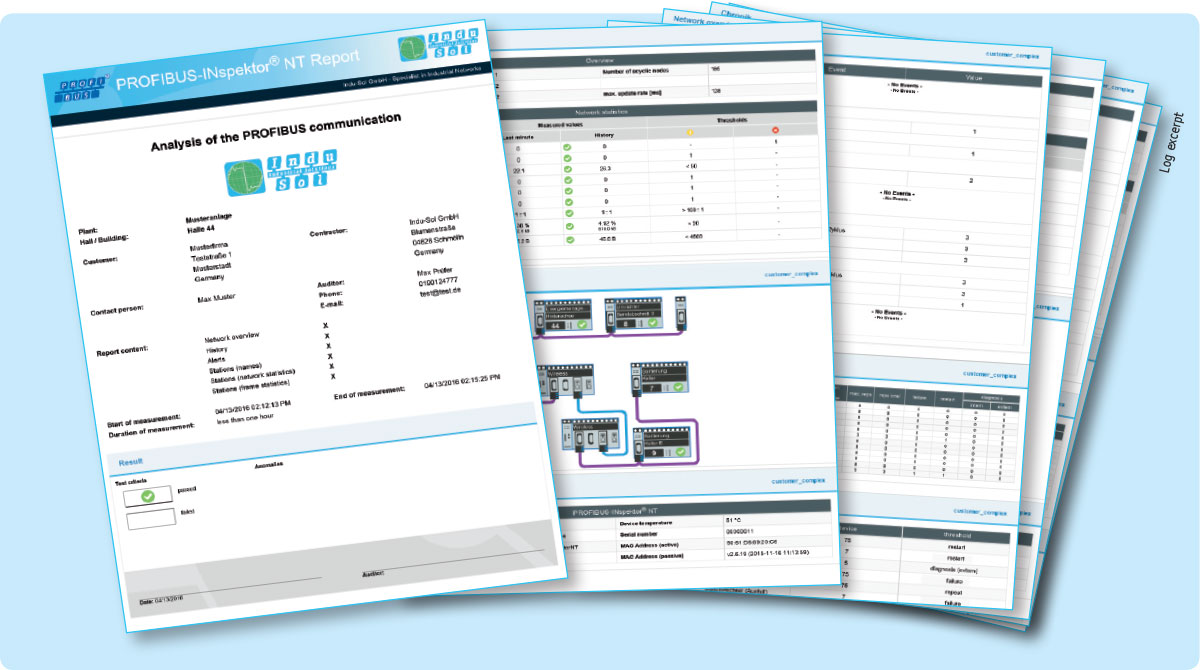 Product Details
---
Delivery concept PROFIBUS monitoring
Are you interested in long-term safeguarding of your PROFIBUS systems and production processes?
---
NEU gegen ALT – Vergleich der PROFIBUS-INspektor Generationen
---
Condition Monitoring
The passive data collector PROFIBUS-INspektor® NT monitors permanently the logical data traffic and gives an alarm signal as soon as abnormalities appear – not just when shutdown occurs.
---
Basics and coherences of the proven technology in compact form as well as tips to latest valid standards and guidelines
---
---
PROFIBUS-INspektor® NT Starterkit
PROFIBUS-INspektor® NT
solid transport case
APKA II (active programming cable)
Plug-in power supply unit 24 V, 1.25 A
Patch cable (crossover), 5m
Patch cable, 5m
Ideal for portable or rotating use of PROFIBUS-INspektor® NT, e.g. for service technicians.

Online device training:
Product training desired?
Understand functions. Perfect operation. Use potentials – conveniently as an online course.
The simple start into permanent network monitoring
With PROFIBUS-INspektor® NT, you can easily get started with permanent network monitoring. The compact INspektor® is the simplest solution of a decentralized data collector for PROFIBUS networks. Without any special configuration effort the device is immediately ready for use to record all characteristic logical quality parameters in your PROFIBUS project. Based on this, you can maintain and service your PROFIBUS system on demand. Reduce efficiently maintenance costs and efforts with the permanent PROFIBUS monitoring of Indu-Sol.