To overview
Ethernet switch PROmesh P20 voted category winner of the Engineers' Choice Award 2020
03.02.2020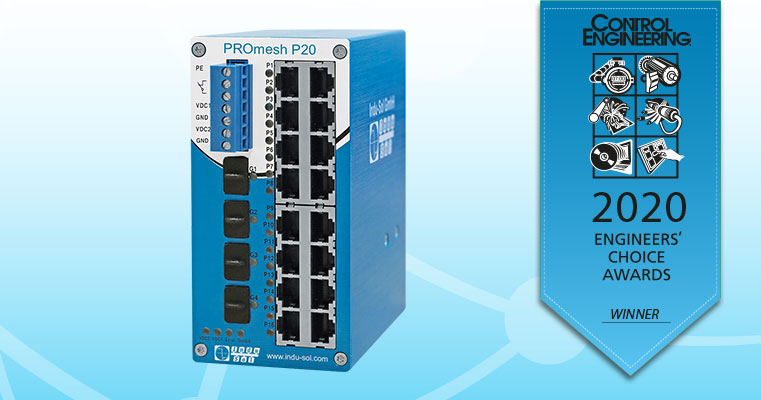 ---
Selected by engineers: The optimal hardware for industrial networking
Does my network fit the requirements I have? The reality in practically all industrial sectors already demands an answer to this question. Machines and plants are increasingly networked and exchange more and more data with each other. In addition, more and more applications communicate via the machine/plant network that are not required for their control (energy management, ERP data, image processing etc.).
Whether the network can handle this increased data load without compromising the performance of the automation processes is largely determined by the performance of the infrastructure components used. At the North American Engineers' Choice Awards, the audience decided that the Ethernet/PROFINET Switch PROmesh P20 from Indu-Sol was best suited to meet these requirements. In the category "Network Integration - Ethernet Hardware, Switches", the intelligent data distributor received the most votes among the engineers who were entitled to vote as qualified subscribers to the channels of the US media house CFE Media.
The PROmesh P20 not only functions as a control centre for data traffic in Ethernet/PROFINET networks, but can also be used as a link between IT and OT (machine/plant level) thanks to its integrated NAT Routing Firewall. With the aid of its onboard diagnostics, it not only monitors important quality parameters for evaluating the communication quality in the network (network load, discards, errors), but even guarantees monitoring of the leakage currents on the screens of the connected data lines in accordance with the official PI guidelines. Four gigabit-capable SFP ports, which can also be used for fibre optic communication, for example, and the certification of all 20 ports according to the highest Netload Class III or Conformance Class B ensure a high degree of flexibility when using the managed switch in different environments as well as a high degree of robustness against high data loads.
» To the award website (Overview of all winners 2020)
---