To overview
Success Story: PROFINET Diagnostics in E-Commerce
16.09.2020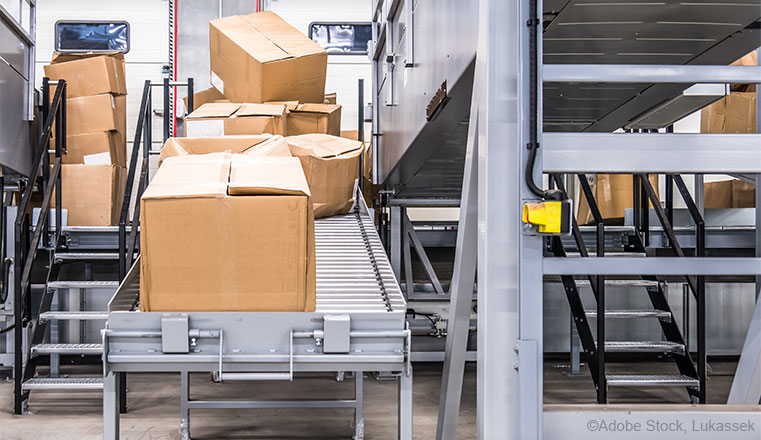 ---
The time-critical processing of orders and trouble-free logistics processes are among the cornerstones of every successful online seller. But what do you do when sporadic disruptions occur and productivity is threatened?
For years now, the area of e-commerce has been booming. Thanks to increasing automation in ordering and shipping processes, e-commerce companies are becoming more and more efficient. At the same time, the pressure to deliver orders as quickly and reliably as possible is increasing.
In order to meet these challenges successfully, there are apparently a number of obstacles that need to be mastered in practice. One often underestimated factor is the industrial network, as the following example illustrates.
The initial situation
One of the world's leading e-commerce companies experienced repeated failures of the SINAMICS control system in one of its Indian warehouse/logistics centres. These repeatedly caused interruptions on the conveyor and in the distribution to various shipping and delivery vehicles. Particularly during the peak holiday periods, failures of the conveyor in continuous operation occurred time and again. This meant that the on-time delivery of ordered goods could no longer be guaranteed.
The customer was able to initially attribute the sporadic failures to temporary communication problems between drives in one of its PROFINET networks. However, permanent interference suppression was not possible. The Indian Indu-Sol-Partner Utthunga was called in to remedy the failures in the long term.
Troubleshooting and fault clearance
In order to identify the exact causes of the communication errors, Utthunga first installed a PROFINET network diagnostics solution from Indu-Sol at the customer's premises. The PROFINET diagnostic tool installed in many warehouses made it possible to identify the exact root causes. These were:
Line depth did not comply with the PI standard
Network was occasionally overloaded with packets
Lack of switches and connections suitable for industrial use
Interference source: Line depth
The standard line depth for an update rate of 2 ms should not exceed 14 devices (according to PROFINET guideline, corresponding to line length). In the customer's case, the line depth of 24 devices caused a communication delay (jitter). This resulted in a temporary PROFINET communication failure.
max. line depth with "Store-and-Forward" switches
| | | | | |
| --- | --- | --- | --- | --- |
| Update time | 1 ms | 2 ms | 4 ms | 8 ms |
| Line depth | 7 | 14 | 28 | 58 |
max. line depth with "Cut-Through" switches
| | | | | |
| --- | --- | --- | --- | --- |
| Update time | 1 ms | 2 ms | 4 ms | 8 ms |
| Line depth | 64 | 100 | 100 | 100 |
Interference source: Network load ratio
In addition, unknown TCP/IP data traffic interfered with PROFINET communication in the network. A connected HMI console and a camera-based monitoring system (CCTV), which communicated via the PROFINET network, caused the network load ratio to be temporarily exceeded. In order to better analyse the PROFINET and IP-based data communication, an additional diagnostic device was installed. By using the PROFINET INspektor® NT it was possible to identify, among other things, the TCP/IP-related network load peaks during plant operation.
Our recommendation for action
Based on various tests and reports, the customer was recommended to implement changes to its PROFINET networks. Besides the consideration of the PROFINET guidelines, this includes the use of managed industrial switches.
To be able to react to changes in his network in a plannable manner and to avoid malfunctions, permanent network monitoring was integrated into the PROFINET network of the e-commerce company.
The added value of this approach can be summarised as follows:
Targeted identification of interference sources to increase operating efficiency
Ensuring continuous plant operation, even during peak load operation
Increased plant availability due to improved network infrastructure
The importance of network planning
In order to prevent network-related operational disturbances in advance, we generally recommend professional planning of industrial networks (PROFINET, Industrial Ethernet, etc.). Without this, even inconspicuous errors, such as incorrect line depth or TCP/IP data traffic that has not been taken into account, can affect the reliability of your plant.
Additionally, we recommend the installation of a permanent network monitoring, e.g. by means of PROFINET INspektor® NT, to ensure long-term plant availability.