To overview
PROFINET-INspektor® NT
Intelligent measuring point for online analysis and PROFINET monitoring

---
The PROFINET-INspektor® NT is an important diagnostic tool for certification, commissioning and inspection of new installed PROFINET networks. Depending on the pre-defined trigger functions the events are registered in the PROFINET-INspektor® and summed up and stored per device. Hereby, the INspektor® detects quality values like network load, data throughput, refresh rate, telegram gaps and telegram jitter, that mirror the current status of communication quality. These parameters serve as commissioning and inspection criteria for new installations, but also as important information for maintenance and (remote) service.
Firmware version 2.2 introduces new functions
A short overview: Discover the new functions of the free firmware update
Fully automatic detection of device log-offs
Cyclic tool changes of robots are automatically detected as device log-offs in permanent monitoring without any further configuration effort.
Automatic event-driven start of a topology scan
Topology scans can now be started as an action on defined trigger events, such as new network participants or when the controller is accessed. This allows you to keep an eye on the most up-to-date network structure with all devices at all times.
The topology is supplemented by the quality parameters determined by the PROFINET-INspektor® NT. These are visualised according to the familiar traffic light principle.
Extension of the switch statistics with PROmesh P10
In addition to the previous available PROmesh switches, statistics and quality parameters of connected PROmesh P10 can be called up directly via your PROFINET-INspektor® NT. The quality parameters "line quality" and "transmission speed" available in the PROmesh P10 can be recorded and analysed directly via the connected INspektor - you have all relevant information at a glance.
Automatic adjustment of device condition ratings
Based on historical occurrences, the evaluation criteria and threshold values of quality parameters can be automatically adapted to your individual requirements for each subscriber without additional configuration effort. This makes setting up the PROFINET-INspektor® NT even easier and faster.
Proven features
Acceptance according to the PROFINET Design Guideline and Commissioning Guideline of PROFIBUS & PROFINET International
Independent analysis and evaluation of PROFINET real-time communication
Topology determination incl. asset management
Detailed description and presentation of the PROFINET network
Complete acceptance report with all relevant event information
Representation of the PROmesh switches
Display of status-relevant port statistics and leakage currents
Self-learning threshold values - Threshold values are automatically determined for alarming after the acceptance test
Touch display that shows errors directly
Jitter statistics for all devices
Option to carry out active or passive network diagnosis
Uninterrupted monitoring, even at high net load
Synchronisation via time server
Security features of PROFINET-INspektor® NT
Detects new and unknown devices in the network
Registers unauthorized programming or manipulation of the controller
Identifies even the smallest peak loads in resolving network loads exact to the millisecond
Recognizes telegram manipulation based on an increased jitter
PROFINET INspektor® NT as continuous network monitor
A permanent analysis of the network status is essential to ensure the PROFINET communication clocked in real time or to overview the amount of extrinsic communication (e.g. Ethernet by camera systems and displays).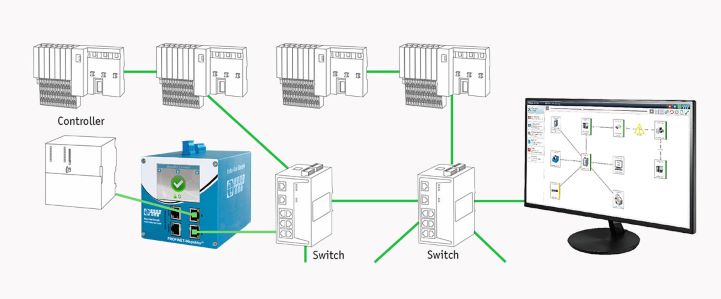 Integration of the PROFINET-INspektor® into the PROFINET network
The PROFINET INspektor® NT is permanently integrated into the plant network and permanently monitors the logical telegram traffic during running production conditions. The plant operator knows the current status of the network at any time and is therefore able to initiate concrete countermeasures before the fieldbus fails and the plant comes to a standstill. An integration of the PROFINET INspektor® into the detection system is possible and useful for permanent monitoring.
Integrated web interface
Thanks to the PROFINET INspektor® NT embedded web server the network state can be displayed without any additional software on any PC with an internet browser. Via the potential-free contact a visual alerting can be setted.
Product Details
---
Delivery concept for PROFINET monitoring
Are you interested in long-term safeguarding of your PROFINET systems and production processes?
---
---

Online device training:
Product training desired?
Understand functions. Perfect operation. Use potentials – conveniently as an online course.
---
PROFINET Guidelines
This product meets important requirements of the PROFINET Design Guideline and Commissioning Guideline of PROFIBUS & PROFINET International. Read more about further criteria and products!
---
Condition Monitoring
The passive data collector PROFINET-INspektor® NT monitors permanently the logical data traffic and gives an alarm signal as soon as abnormalities appear – not just when shutdown occurs.
---
The IIT Network Equipment Supplier brochure
From the component to the system solution - our IIT portfolio in one brochure!
Technological coherences in detail that are based on the latest valid standards and guidelines
---