To overview
PROFINET-INspektor® NT
Intelligent measuring point for online analysis

---
The PROFINET-INspektor® NT is the successor of the PROFINET-INspektor®. It is already an indispensable part of diagnostic equipment and makes analysis easier still.
A permanent analysis of the network status is essential to ensure the PROFINET communication clocked in real time or to overview the amount of extrinsic communication (e.g. Ethernet by camera systems and displays).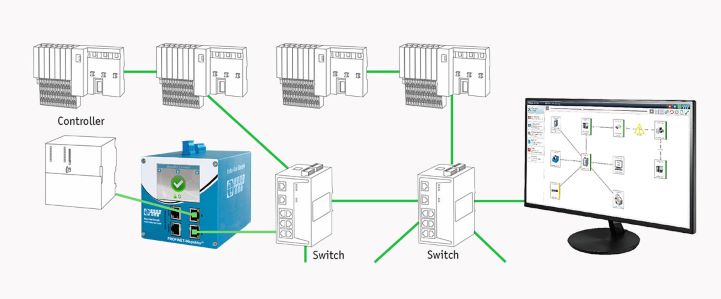 Integration of the PROFINET-INspektor® NT in the PROFINET network
The PROFINET-INspektor® NT is permanently integrated in the network and monitors permanently the logical telegram traffic during operation. The operator is acquainted with the current network status anytime and is able to take suitable action, before faults occur and the production comes to a halt.
New features of PROFINET-INspektor® NT
Firmware upgrade to version 2.0* made possible:
Representation of the switches PROmesh P9/P20
Display of status-relevant port statistics and leakage currents
Acceptance according to the PROFINET Design Guideline and Commissioning Guideline of PROFIBUS & PROFINET International
Independent analysis and evaluation of PROFINET real-time communication
Self-learning threshold values
Threshold values are automatically determined for alarming after the acceptance test
Topology determination incl. asset management
Detailed description and presentation of the PROFINET network
* The firmware update will be available for download as soon as it is released.
Security features of PROFINET-INspektor® NT
Detects new and unknown devices in the network
Registers unauthorized programming or manipulation of the controller
Identifies even the smallest peak loads in resolving network loads exact to the millisecond
Recognizes telegram manipulation based on an increased jitter
The PROFINET-INspektor® as a silent observer creates pinpoint snapshots of events like utilisation rate, speed, data throughput, telegram jitter, repeat telegrams, error telegrams, device diagnosis, device failures and stores it for later evaluation. Thanks to a hardware-integrated web server the network status can be displayed without additional software on any PC, via internet browser. The collected network data are the basis for a preventive maintenance.
The software supports you in PROFINET monitoring
Product Details
---
Delivery concept for PROFINET monitoring
Are you interested in long-term safeguarding of your PROFINET systems and production processes?
---
---
Diagnostic Tool
The PROFINET-INspektor® NT is also appropriate for a temporary usage and thus the suitable tool for analysis and inspection of new PROFINET installations.
---
The IIT Network Equipment Supplier brochure
From the component to the system solution - our IIT portfolio in one brochure!
Technological coherences in detail that are based on the latest valid standards and guidelines
---
Do you have any questions?
We are at your service for all questions concerning our products and solutions.