Ethernet/PROFINET switch PROmesh
Managed Switch
Simple. Unique. Pioneering.
---
Industrial Ethernet Network diagnostics and leakage current monitoring combined in one!
The Indu-Sol Ethernet/PROFINET Switch PROmesh is the first switch that is equipped for the increased performance requirements in the PROFINET and conforms to Conformance Class B as well as Netload Class III requirements. With its optimised shielding contacts in the RJ45 jacks and leakage current monitoring the switch has a high EMC resistance required in the industrial environment.


PROmesh P9
Leakage current monitoring
Network utilisation with millisecond precision
Conformance Class B
Diagnosis function
Port statistics
Netload Class III
9x10/100Base-TX RJ45-Ports
PROmesh P20
In addition to the functional range of the PROmesh P9:
16 x 100 Mbit/s RJ45 Ports
4x1000Base-X SFP-Ports
NAT Routing/Firewall function
Gigabit support
Use directly after the controller
Mechanical engineers, maintenance engineers and IT experts pay attention!
The video "The SWITCH - The network professional | Technology made easy " shows you in an easy-to-understand way
the basic functions of a switch,
how to achieve optimal network performance,
what you need to know about network diagnostics using switches.
Large functional range with compact design
Functions PROmesh
The integration of the Ethernet/PROFINET switch into the automation system (Step7, TIA Portal) with the help of an engineering tool enables you to perform comprehensive network diagnostics. In contrast to standard switches, the PROmesh, thanks to its features, supports a variety of necessary functionalities:
---
Diagnosis function
The PROmesh can be adapted individually to your needs and network specifications. If requested you get notified about:
Number of error telegrams
Number of discards
Level of network utilisation
Correct port assignment
Height of leakage current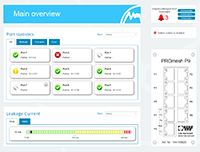 Network utilisation with millisecond precision
In PROFINET networks, even briefest peaks in the network utilisation can lead to a malfunction in the data communication and thus cause faults. To properly detect these network peaks, the PROmesh series determines the network utilisation with millisecond precision and presents them graphically on the web interface or issues an appropriate alarm if exceeded.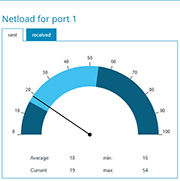 Display of network utilisation
Leakage current monitoring
Leakage current monitoring makes it possible to permanently record and evaluate the sum of all shielding currents of the PROFINET lines. The corresponding spectrum with the respective frequency components is specified for this in addition to the current value. Using this integrated function, the PROmesh series also offers mechanisms for detecting EMC faults or couplings in addition to the complete PROFINET diagnostics.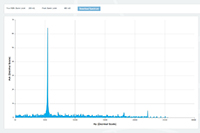 Diagram of leakage current monitoring
The IIT Network Equipment Supplier brochure
From the component to the system solution - our IIT portfolio in one brochure!
The brochure explains how to build up a stable EMC structure of automation systems and detect interferences
Technological coherences in detail that are based on the latest valid standards and guidelines