To overview
PNMA II – PROFINET measuring point
For nonreactive access in PROFINET

---
The PROFINET measuring point PNMA II provides nonreactive access for telegram recording in the PROFINET and other Ethernet-based networks (e.g. Industrial Ethernet) during running production.
For use in harsh environments or outside the control cabinet, the IP67-certified PNMX variant is available.
Highlights PROFINET measuring point PNMA II
If connecting a PROFINET-INspektor® NT via a PNMA II, only two additional patch cables are needed (no crossover cable required).
In case of a power supply failure the PROFINET communication via the PNMA II remains intact.
Power supply of additional analytic tools via the UOUT (24VDC) connector
PNMX IP 67 for rough production environments
Function
Analysis tools (e.g. PN-INspektor® NT or laptop) can be connected nonreactive to the two monitor jacks to monitor both communication directions simultaneously. For evaluation of the
measurement results the telegrams from both communication
directions can be overlaid. The PNMA II / PNMX does not discard
error telegrams. Instead, it forwards them.
Properties
Monitoring of all protocols
Supports all packet sizes
No packet loss
All connection ports on the front panel
No additional effort to connect a measuring device
Tested interaction with the PROFINET-INspektor® NT
No free switch port necessary
Bi-directional data transmission up to 100 Mbps
No network interruption when connecting diagnostic tools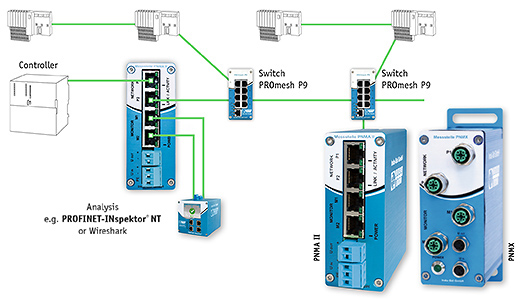 The IIT Network Equipment Supplier brochure
From the component to the system solution - our IIT portfolio in one brochure!
Technological coherences in detail that are based on the latest valid standards and guidelines