PROmesh P10
With integrated cable diagnostics and extensive monitoring. Gigabit enabled.

---
The intelligent "network monitor"
W
hen installing PROFINET networks in machines and plants, connecting cables must be tested for proper function or even be certified. Until now, this testing had to be accomplished in a separate work step. The PROmesh P10 provides an alternative to this complex procedure for the first time.
The PROmesh P10 industrial switch, from the latest Gigabit switch generation, has an integrated cable diagnosis, which satisfies both the requirements of cable measurement and permanent, qualitative cable monitoring. Therefore it is suitable for line testing during commissioning and during plant operation. In short: A well-founded statement about the "wear reserve" of the network is possible at any time - without interrupting plant operation. With this knowledge, maintenance measures become more predictable.
Product details
---
Downloads
User manual, English (PDF)
Technical data (extract)
Network-
Connections
8 x RJ45-Ports


(10/100/1000 Mbit/s)


2 x SFP-Ports


(100/1000/2500 MBit/s)

Technology
Cut-Through
Protocols
HTTP, SNMPv1, SNMPv2, DHCP Client, TFTP, Syslog, LLDP, IGMP, SMTP Client, SNTP Client, RSTP, MRP Master/Client
Port statistics
Network load (per ms), Errors, Discards
Please refer to our download area or the product details for the complete data sheet.

Online cable diagnosis
Due to a sophisticated evaluation system of the transmission and reception parameters, the PROmesh P10 switch is able to provide clear statements about the current transmission quality and also about the state of the data lines. In order to visualize the physical abrasion of network cables, a quality value "Q-actual value" is permanently determined for each cable. This status value is compared to a "Q target value" that corresponds to the cable length, as a result of which the line status per port can be determined.
The status of each data cable can be easily checked via the integrated web interface of the PROmesh P10. Thanks to the traffic light colour principle, it is possible to immediately detect when the value falls below the preset threshold value. Damaged cables can be replaced according to their condition during the next maintenance interval. All alarms can also be transmitted to a superordinate network monitoring system (via SNMP, PROFINET, e-mail, relay).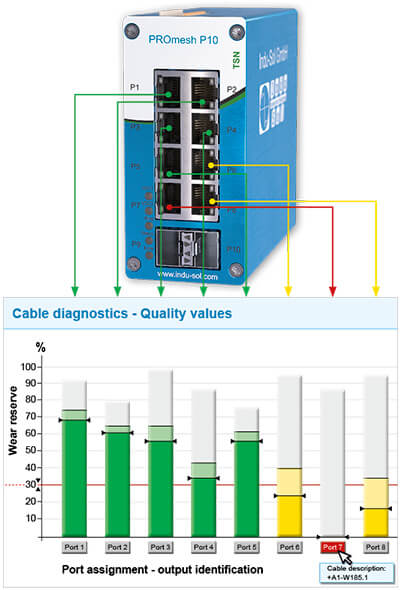 Integrated cable test
Up to now, measurement-based control of newly installed or self-assembled cables and connectors has been mandatory. The integrated cable test of the PROmesh P10 carries out this quality control fully automatically - without additional time and effort and without an additional cable measuring device. Using specially developed evaluation criteria, the cable quality can be tested under real conditions and at the same time permanently monitored.
Advantages of the PROmesh P10 integrated cable test
No additional time required for manual cable testing
No additional measuring device required (cost saving)
Detailed cable test under real system conditions
Automatic documentation and evaluation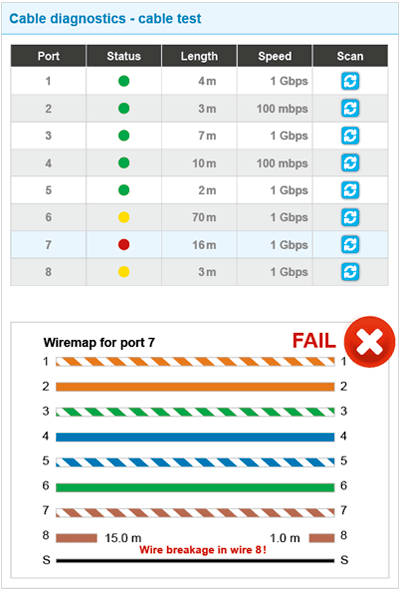 Performance Monitoring
If the data traffic in the network exceeds the performance limit of a switch, data loss (discards) occurs. This is often caused by sporadically occurring network load peaks, e.g. due to acyclic queries from the IT level or TCP/IP applications.
In order to make this short-term peak load visible, the PROmesh P10 provides useful network load statistics. This displays all network loads per port and associated discards up to the second and enables network load-related bottlenecks to be identified and rectified.
EMC monitoring
Despite correct shielding, EMC couplings on data cables frequently cause communication errors or breakdowns. With the aid of permanent leakage current monitoring, common sources of EMC interference can be identified without complicated measuring procedures.
For this purpose the PROmesh P10 captures the exact time, frequency and intensity of occurring EMC disturbances. If a freely settable limit value is exceeded, an automatic alarm notification is triggered. To simplify subsequent analysis, an exact time history around the incident (snapshot) is also stored. This can be called up via the web interface of the switch.

Monitoring the 24V power supply
Industrial switches form the central hub of any network. A switch failure due to insufficient power supply is not tolerable. For this reason, the PROmesh P10 has an integrated monitoring of the power supply (24V), which can be integrated into the central network monitoring as an additional stability parameter.
According to EN 61131-2, a tolerance range of -17.5 % to +16.5 % must be maintained for a 24 V power supply for safe PLC operation. However, practice shows that the real voltage supply deviates from the required tolerance range and devices fail due to the large distribution depth.

PROFINET specification V 2.4 compliant
Since 2020, PROFINET has been available via TSN with the PROFINET specification V 2.4. This means that both manufacturers and end users can implement the advantages of TSN, such as future-proof IEEE Ethernet technology with higher bandwidth, deterministics, flexible network configuration, and a wide variety of chips, interoperably.
The PROmesh P10 is developed on the basis of the PROFINET specification V 2.4 and certified according to the following points:
Conformance Class B
Netload Class III
Real-time Class 1

Gigabit capable (1000 / 2500 MB/s) / TSN ready
The PROmesh P10 was especially designed for the application in Gigabit and/or TSN networks. This makes it ideally suited for use in heterogeneous or convergent industrial networks.
8 port x 1 GBit/s; 2 port x 2.5 GBit/s
Performance in the Distribution Layer category
Support of several ring protocols (MRP, STP, RSTP)
Implemented TSN functionalities
More bandwidth for heterogeneous / convergent networks - but how?
Due to the higher communication traffic, heterogeneous or convergent networks require more bandwidth. In order to increase the usable bandwidth, there are primarily two approaches to solutions in the industrial environment:
Increase of the real bandwidth (Gigabit communication)
by increasing the data rate to 1 GB/s or more


Note: Devices, applications and cables must be gigabit capable

Increase of the usable bandwidth (TSN communication)
through improved real-time communication and data prioritization


Note: Devices and applications must be TSN-compatible
To learn more about professional planning of heterogeneous/convergent networks in industrial environments, click »here.
---
Related topics and products that you might be interested in
Our other PROmesh Switches
Discover more products of the PROmesh series. Ideal for PROFINET and Industrial Ethernet networks.
Network planning: consulting & conception
Whether new or existing plant: we provide stable industrial networks that match your requirements.
PROFINET monitoring. Only simpler.
Analysis and monitoring in one - with the PROFINET-INspektor® NT. Ideal for service and maintenance.
Network planning software PROnetplan
Check your planned system and network layout in advance for weak points and network load bottlenecks.