To overview
PROmanage® NT
Network status at a glance

---
Gradual aging, wear and tear in the production environment and bottlenecks lead to progressive deterioration in the quality of networks. The monitoring software PROmanage® NT provides timely warning when abnormalities appear. The early warning enables you to carry out maintenance in good time, thereby minimizing breakdowns and plant outages.
By means of PROmanage® NT, the network quality of industrial fieldbuses can be compared to anomalies in the bus-related EMC. This allows conclusions on whether the causes of problems are more likely to be found in the bus itself, or rather in its environment. For this purpose it is possible, for example, to superimpose repetitive events in the PROFIBUS and the shield current, chronologically, in a graphic (see example below). This sophisticated method of analysis makes irregularities immediately apparent. When a value exceeds or falls below a configurable threshold value an alarm activates. The statistic function keeps data exact to the minute available up to one year. This means historical events can be opened up for viewing at any time for cause analysis, e.g. of sporadic failures.
Highlights PROmanage® NT
Centralized monitoring for all fieldbusses, networks and the bus-related EMC
Avoids plant outages
Timely warning of abnormalities via OPC, SNMP or email
Data are available to-the-minute up to one year
Rapid installation
Easy device setup by means of an automated or manual device scan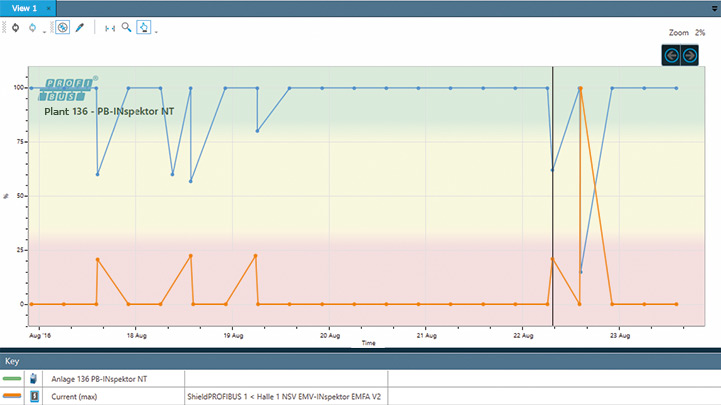 Example: Permanent shield current analysis compared to PROFIBUS condition graph
Product Details
* The license defines the maximum number of network ports or devices retrieved simultaneously. Ethernet Switch: 1 network port = 1 license port
1 PROFIBUS-INspektor® = 8 license ports
1 PROFINET-INspektor® = 16 license ports
1 other INspektor® = 8 license ports
---
Do you have any questions?
We are at your service for all questions concerning our products and solutions.