PROFINET monitoring

Long-term security of your plants


Delivery concept ---
Delivery concept "PROFINET monitoring"
Indu-Sol GmbH has developed an overall concept for safeguarding your PROFINET-controlled systems in which the communication quality is checked with a permanent passive data collector based on a PROFINET-INspektor® NT and in case of irregularities an alarm is issued before the failure.
The concept serves a long-term security, a reliable and stable functioning plant control and finally the security of the production processes. In addition to the hardware, the delivery concept also integrates the services, which include the metrological acceptance of the network, the creation of a protocol of the results and the qualified instruction of the maintenance personnel on the plant.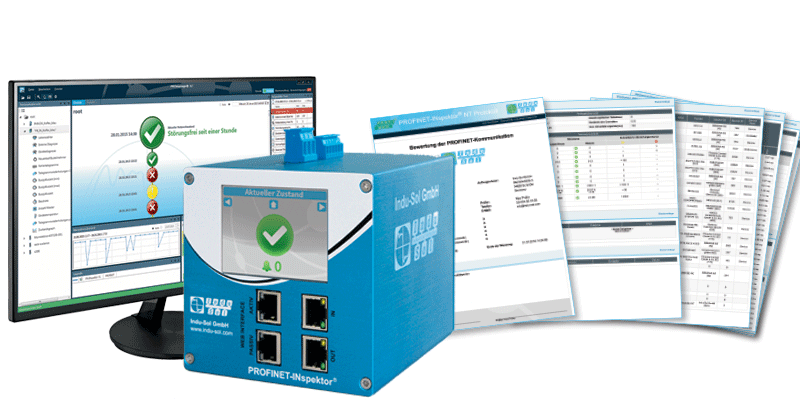 The delivery concept includes
Delivery of hardware for permanent network monitoring
Onsite-services
Evaluation of the obtained network data for compliance with the planning and specifica-tion requirements:



Creation of the real topology plan

Network topology and current port assignments
Device name/types, IP / MAC addresses, subnet mask / gateway
Hardware and firmware versions of devices and modules
Damping reserves with LWL (polymer fibre)
Assessment of communication quality



Device failures and diagnostic messages (alarms)

Faulty telegrams and telegram gaps

Telegram jitter / delays
Network load
Random EMV assessment



Recording of currents on the bus screen and the equipotential bonding conductors with EMheck® LSMZ I

Recording the mesh resistances of the bus screen and the equipotential bonding conductors EMCheck® MWMZ II


Setting the thresholds individually adapted to your network


Instruction of the maintenance personnel
Final evaluation from Indu-Sol
Evaluation of the cable protocols (cable connectors) prepared by the installer with regard to planning and specifications conformity with regard to the attenuation table for fieldbus technology


Preparation of an acceptance protocol after continuous monitoring under conditions close to production (after input of the responsible maintenance personnel)


Evaluation and evaluation: Acceptance granted Yes / No
For further information and questions about the delivery concept, please contact our Key Account Management.
---